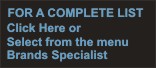 Would You like to be Notified of Future Specials?
Our Current auto repair specials are:
Air Conditioning Summer special
$29.99 + Freon (additional cost) depending on the Volume
Expires: The end of October, 2013
Engine Oil Change
Oil and Filter
$19.99 + Tax + Hazardous Waste Fee
Expires: The end of This Month
A customary 21 point inspection is included in all the provided services.
Among a variety of services (see the list under the heading Services)
• Lube, Oil & Filter • Smog Check • Brakes • Air Conditioning • Check Engine Light Service • Radiator Drain & Refill
Accepted Payment Types: American Express, Visa, MasterCard, Discover.